The Scott AM Metal Part Casting Process - In as little as 24 hours to the first perfect metal casting
No voids, excellent surfaces no finishing. The Scott AM Metal Part Casting Process has been designed specifically to meet the increasing demand for quick, exact, economical metal castings for prototypes and low and medium runs of several hundred parts.
The Scott AM Metal Part Casting is a new and complete package process for producing quick metal prototypes and mould inserts in as little as one day. Materials such as low melt alloys, zinc, aluminium, bronze, brass and copper can be cast when using "burn out" models in wax, polystyrene (SLS) or Quick Cast. Or, castings in three days when using other types of model from which moulds for Vacuum Casting of waxes need to be made.
To apply the new process, wax castings or meltable "burn out" models are required. These are encapsulated under vacuum in ceramic, heated and melted out to leave a cavity which is filled with metal, either under vacuum, pressure or gravity using the Scott AM Metal Part Casting' Equipment.
Further important advantages of the process:
Use Any Rapid Prototyping Model
Start the process with any type of 3-D printed master model such as SLA, QuickCast, Objet, ThermoJet, Viper, LOM, SLS, FDM etc. and in any complexity.
Combined Scott AM Technologies to save time and cost
Low Cost Tooling
Utilise the Scott AM Silicone Tooling Method to produce quick, low cost, multi segment moulds e.g. to produce heavily undercut mouldings for wax part production, impossible with standard, traditional tooling methods.
Produce Precision Wax Models
Use the well-established method of master model duplication with the Scott AM Vacuum Casting Process, to produce exact thin walled, undercut wax models using silicone tooling.
User Friendly, Clean
The automated Metal Part Casting Equipment, is suitable for a clean laboratory type environment not usually associated with a foundry application.
No heat radiation – No dirt – No fumes
Metal Part Casting Examples: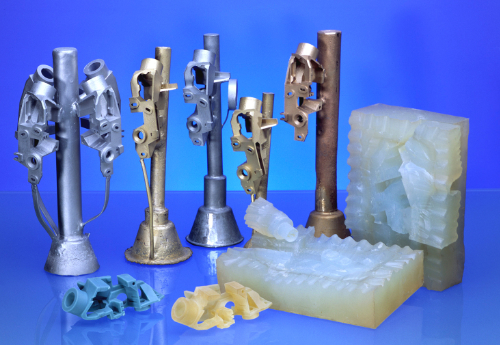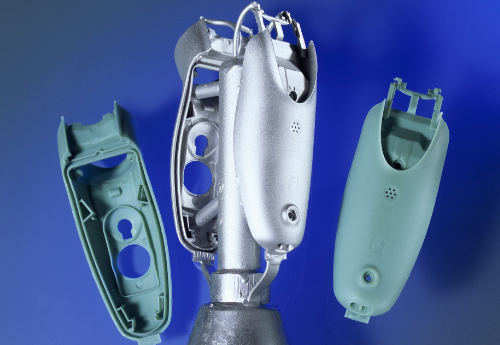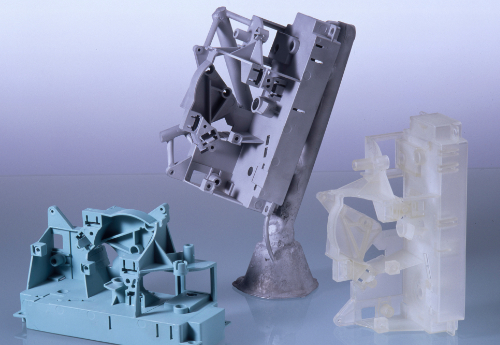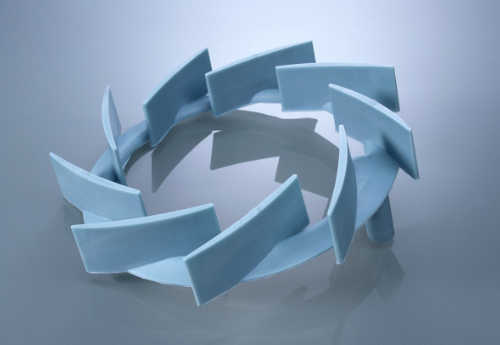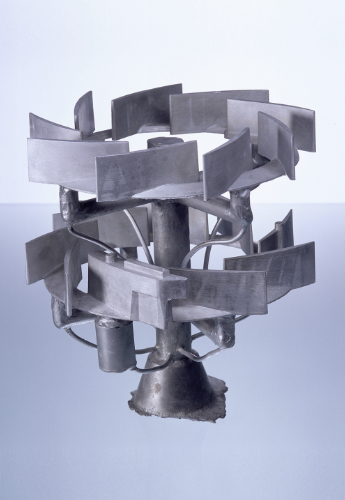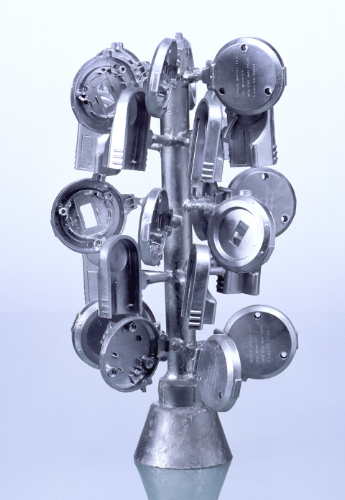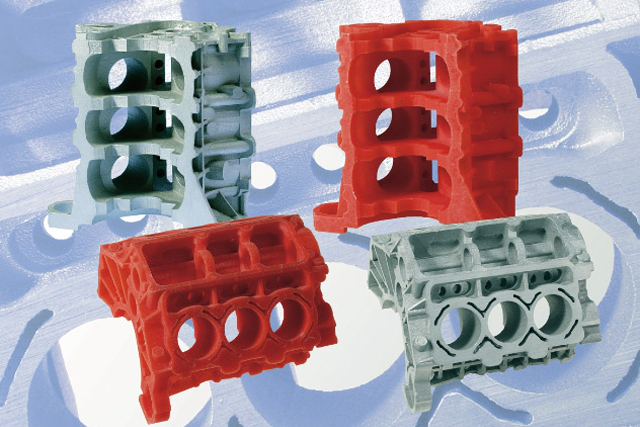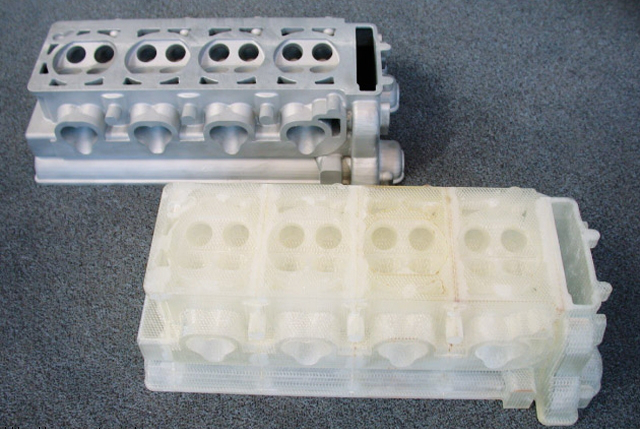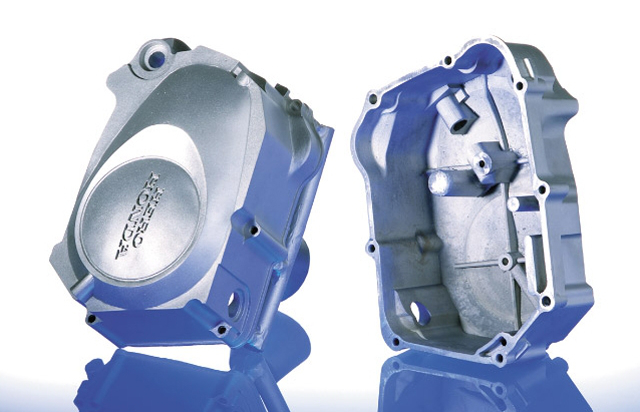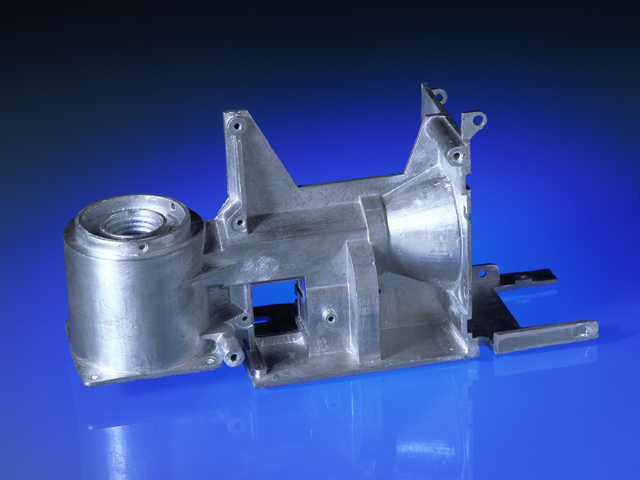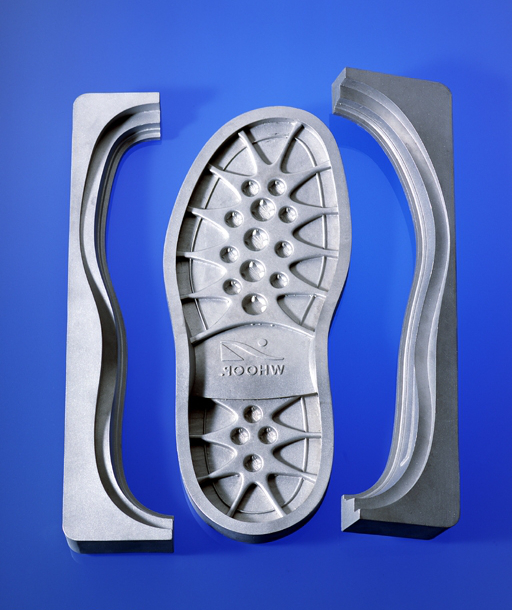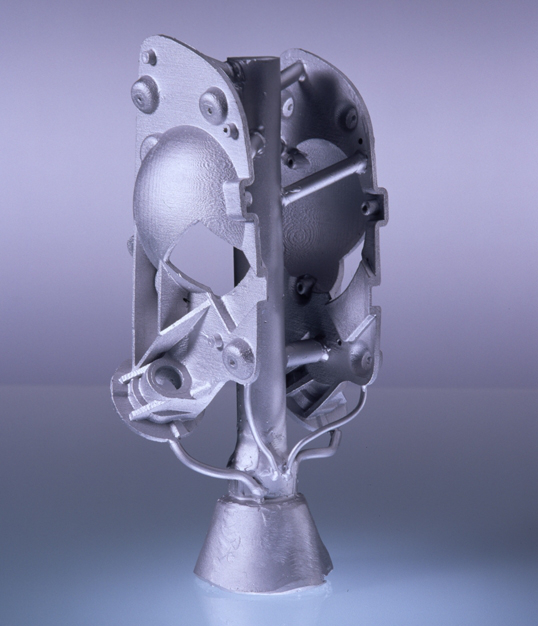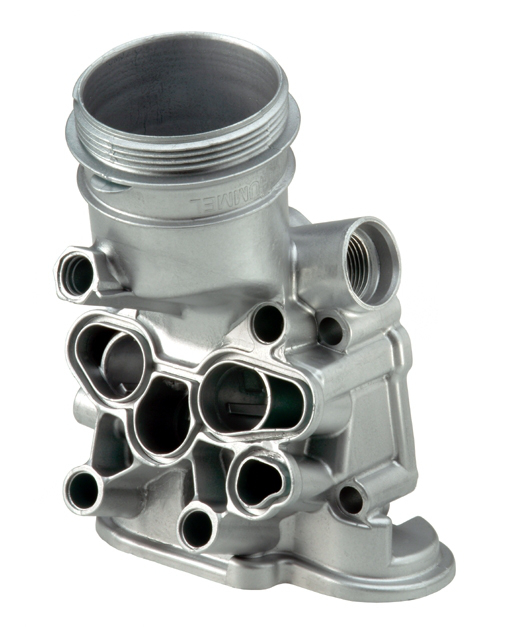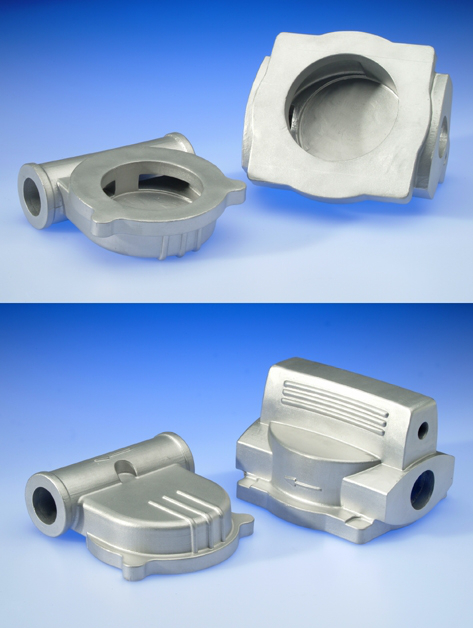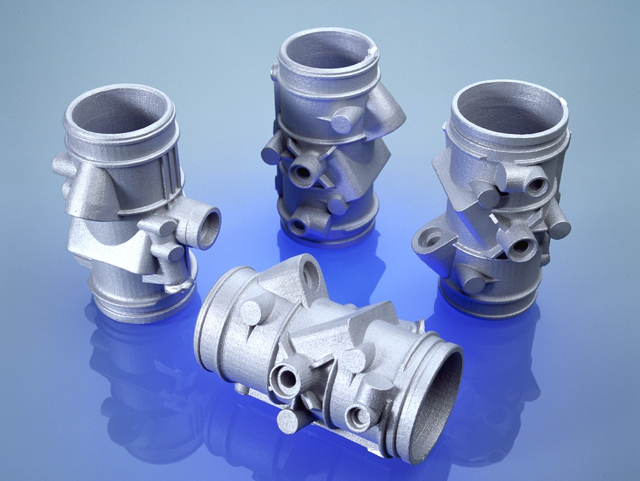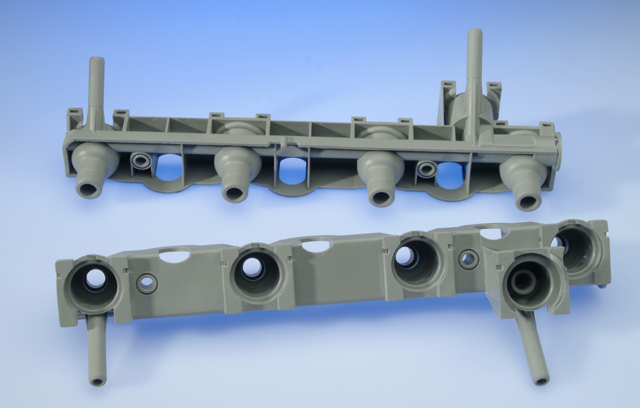 The Scott AM MetaI Part Casting Process
The Fast and Accurate Process for Producing Exact Wax Components and Prototypes in Metal - in just one to three days !
Day One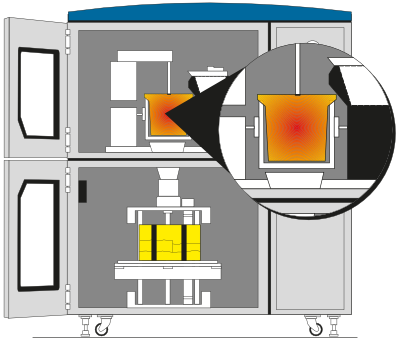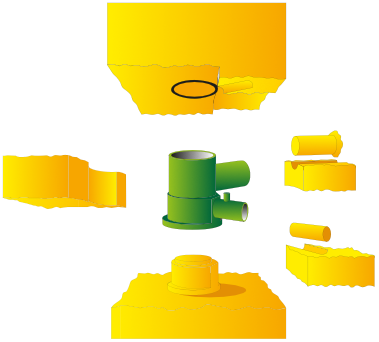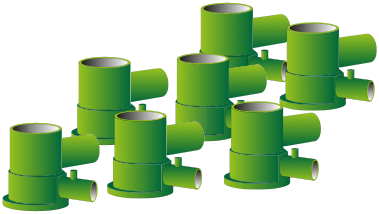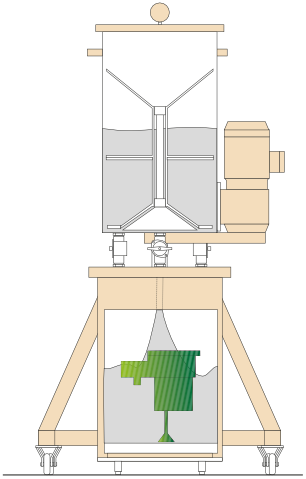 Overnight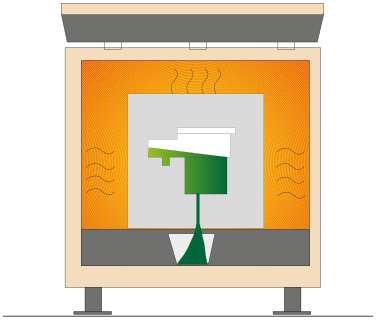 Day two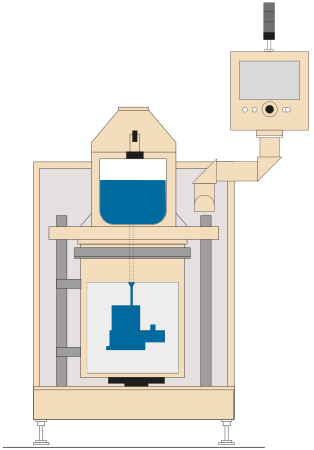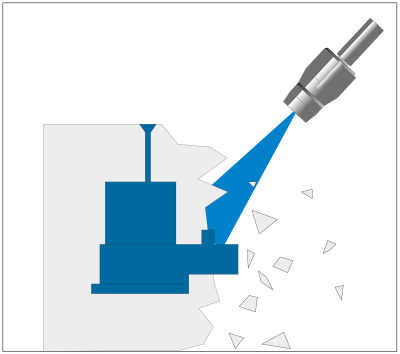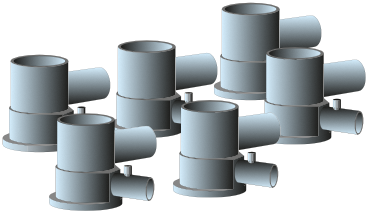 Make The Impossible
Producing prototype tooling for an internally undercut one-piece inlet manifold in glass filled Nylon utilising Fusible Core Technology with low melt Alloy.
For producing internally undercut plastic or injection mouldings with the lost core process using Low Melting Point Alloys, two moulds are required. The first one for casting and producing the low melt core , the second, an injection mould, for positioning the metal core and encapsulation, usually with glass filled nylon in the case of inlet manifolds.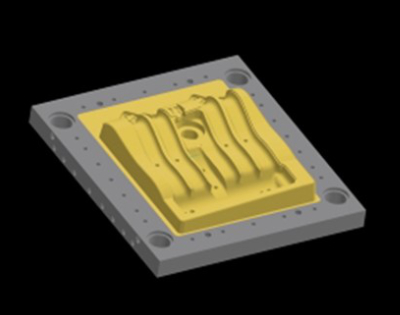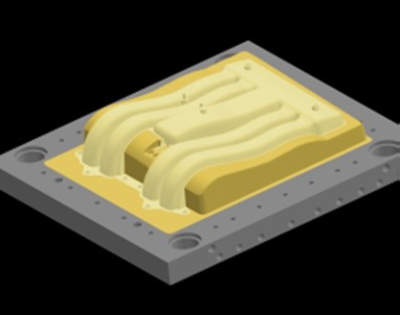 Rapid Prototyping equipment and particularly software offer tremendous cost and time savings to the prototyper. In this very interesting case report, both the model and the parting line set-up were generated separately using 3-D SLA. Using this technique, all time intensive hand preparation of parting boards can be replaced.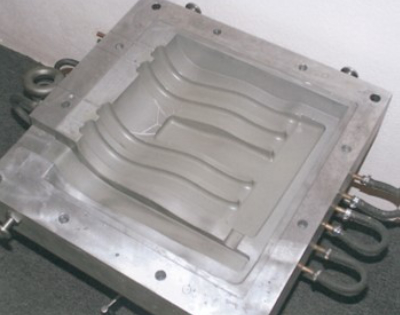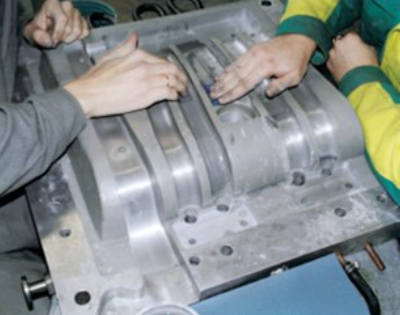 The EP Resin mould or die used for gravity casting of the low melt metal alloy core.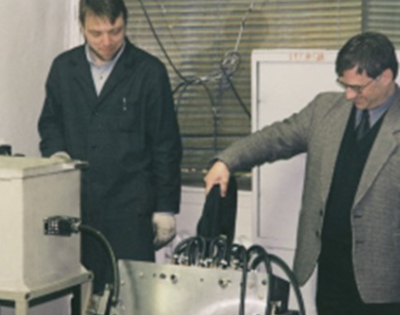 Gravity casting of the Low melting point alloy
The metal alloy casting shows a clean and excellent surface finish. Gravity casting of the low melt alloy core using easy to operate melting equipment. Integrated cooling lines help not only to speed up demoulding time of the cores but also improve the surface structure of the alloy. The smooth surface of the alloy core is reproduced onto the innter surface of the plastic manifold moulding giving better engine performance.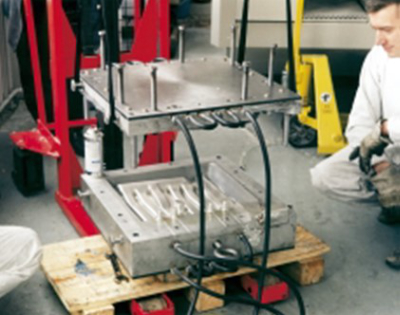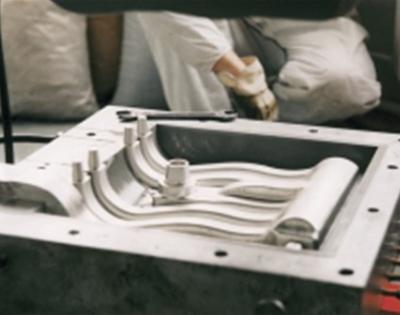 A finished metal core in alloy, in the EP resin tool.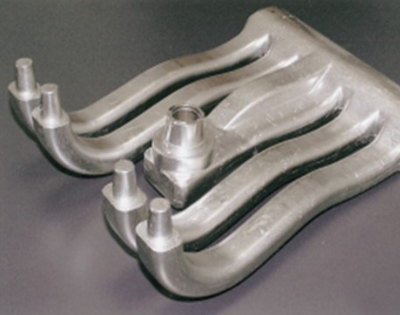 The metal alloy casting shows a clean and excellent surface finish.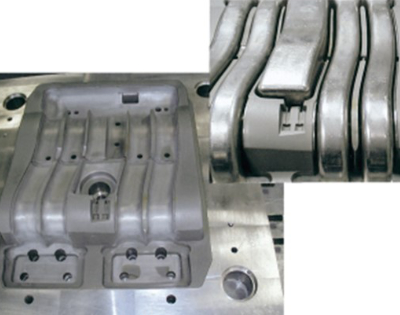 The EP Resin injection mould showing the alloy core in perfect position ready for encapsulation with glass filled Nylon.
After the encapsulation-moulding stage showing the alloy positioners, and, after melting out the alloy, a perfect one piece moulding.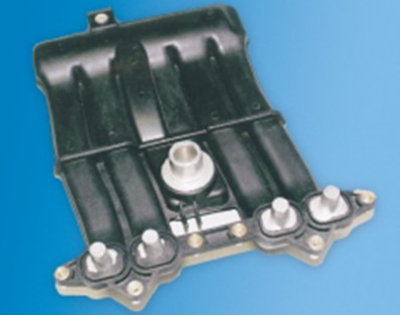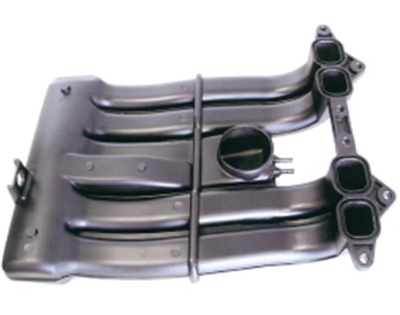 The perfect internally undercut moulding in glass filled Nylon.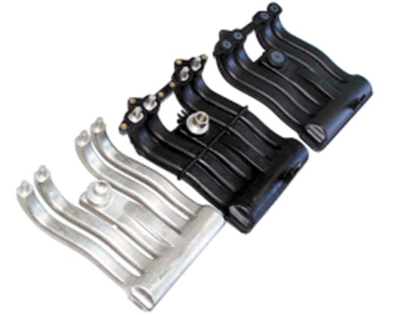 Left, the metal core in alloy
Centre, the alloy core encapsulated in glass filled Nylon
Right, after melt-out, the finished, one piece internally undercut inlet manifold.

the Full Service Supplier offers the widest range of machines, mould making and casting materials, tools and accessories, complete customer training - worldwide. Scott AM Tooling and Casting Technologies guarantee by far the quickest return on investment.